Wire Bonding: Profitable Small Scale Production with the High End Technology of Mass Production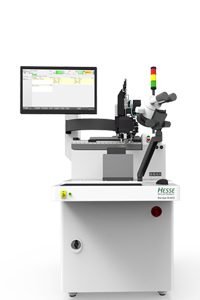 The market of wire bonder can be divided into two segments: On one hand, the segment of high precision and fast production machines, on the other hand manual machines with an open working area. The differences in price, speed and integrated technologies are crucial. Requirements known from the high-volume production environment were challenging to be fulfilled with the resources of a small-scale manufacturer. The BJ653 is designed and launched to cover this gap and enable models to its users.
Its close relationship to fully automated bonders is emphasized by its adapted assemblies: :
The axes system with its repeatability of 10µm
An user interface allows complete process control and creating of production programs
Exchangeable bond heads inclusive transducers and consumables
All industry 4.0 features
The BJ653 creates new opportunities with the same resources. In purchasing terms, the bonder can be compared with manual or semi-automated wire bonders, whereas its usage is additionally highly flexible: Exchangeable bond heads for thin wire, heavy wire, ribbon and ball bonding enable the all wire types form 17.5µm (e.g. Gold) up to 500µm (e.g. Copper). A unique feature is the possibility to transfer production programs directly to fully automated wire bonders. This convenience pays out as well in profitability.
Enhanced by the proven pattern recognition, its segmented ring light and the sophisticated bond force control the concept enables a reduction of production variance to high volume level. The creation of production requirements and even its compliance can be accomplished by this compact bonder.
The outlined concept of the BJ653 allows its user a new level of near-series development or efficient low volume production.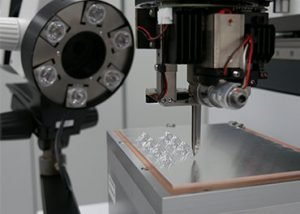 More information:
Hesse GmbH, Lise-Meitner-Str. 5, D-33104 Paderborn
T: +49 52 51-15 60-0
E-Mail: sales@hesse-mechatronics.com
https://www.hesse-mechatronics.com/wp-content/uploads/2019/10/News-Beitragsbild-BJ653-20191007.jpg
250
500
Angelika Theine
https://www.hesse-mechatronics.com/wp-content/uploads/2019/09/Hesse_Logo_rgb-web.jpg
Angelika Theine
2018-05-29 13:43:37
2019-11-07 13:41:10
Wire Bonding: Profitable Small Scale Production with the High End Technology of Mass Production