Numerous software features extend the portfolio Hesse machines and meet the growing demand of connectivity and industry 4.0.
Find out more about the individual functions.
Workbench 2.0: User Interface for PBS and PiQC
Workbench 2.0: central data management, line management, automatic backup system, remote pattern recognition
The Workbench 2.0 is the graphical user interface for displaying, evaluating and managing of process data. It receives and visualizes process data from the following sources:
PBS Server: The PBS interface offers access to process data and files of the machines. The PBS server (Windows™ based system) connects up to
20 Hesse machines. The Workbench enables that the machines can be supervised and administrated while production is running. PBS provides perfect integration of the machines into the production system.
PiQC: Data of the process integrated quality control are saved on the PBS server. The Workbench visualizes the quality values in real time and as recorded process values which enable a view of process changes over time and ensure constant quality.
All data is exported to popular formats for further processing. The Workbench enables file transfer in order to transmit bond programs and parameters from machine to machine.
Advanced features and process advantages
Line management
Display of all machines with current status, characteristics and material consumption indicator (e.g. replace wire spool, wedge change etc.)
File transfer
Bidirectional between machine and local workstation
Process data
Display of all process data of all connected machines. Storage and data export in common fomats
Data backup
Configuration of timed and regular data backup of all machine data
RAW data view
Recorded PiQC quality values and sensor curves with filter options
Realtime view
Display of all quality values in real time
Teach score
Traceability of the teach procedures
Master programming
Load process programs directly from the PBS Server. Ensure that the machines run only the latest released process programs
Multi Server
Run multiple PBS servers and administrate all with the Workbench from your workspace
Advanced features and process advantages
Display of material consumption

Early material consumption indicator (e.g. replace wire spool) or maintenance (e.g. wedge change)

PiQC data and visualization

Central PiQC data storage of all machines on the PBS server
Ensuring constant process quality through data comparison
Realtime view: Display of all quality values in real time
RAW data view: Recorded PiQC quality values

Remote PR assistance

Pattern recognition errors appearing on the machine are displayed in the line management with a red camera icon and can be corrected remotely. The camera image represents the current position on the machine surface. Manual adjustment can correct the error. With the options Skip or Skip part the faulty component can be skipped.
Installation takes place as an additional option on the PBS computer.
Learn more about the functions of Workbench 2.0. Get in contact with us.
Hesse Bonder Network "HBN 1000" - Machine Interconnectivity and Synchronization
Hesse Bonder Network HBN 1000: complete line management, synchronization of data, easy integration of new machines via Plug & Produce, no server necessary
The Hesse Bonder Network is a decentralized solution for the interconnectivity of machines and the distribution and synchronization of information amongst the bonders within the network. The distribution of the various settings and programs can be set individually.
The HBN 1000 enables also the easy integration of new machines into existing production lines. This is supported by a controlled synchronization. Line management can be handled from any of the connected wire bonders.
Production programs, libraries of material and general settings are automatically adopted from existing machines. A super-ordinate server system or a manual transfer or copying is no longer necessary.
Beyond these advantages, the installation of such a bonder network is a benefit for the security of data and production. Decentralized data storage minimizes the risk of a black-out.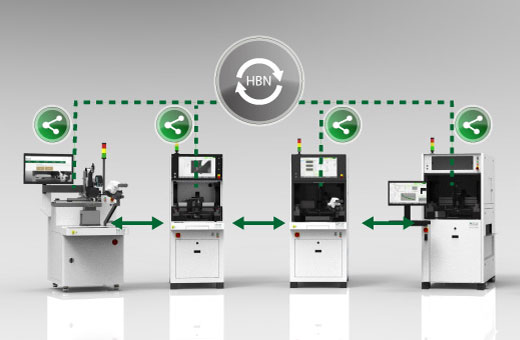 "Plug and Produce" with HBN 1000
Steps of an easy integration
Assign a bonder to a line ("line configuration")
Specify the bonder for synchronization ("local settings")
Define the synchronization ("synchronized data") and the settings ("synchronization settings")
Use dialog "file import/export" to select or share recipes, settings or process programs
Finish and confirm the sychronization
Learn more about the functions of Hesse Bonder Network HBN 1000. Get in contact with us.
Offline Programming
Offline Programming
Offline programming allows you to program bond programs outside the bonder and outside the production environment. It prevents production interruptions and brings significant benefits in terms of quality, resources, costs and deadlines. Capacity and cycle times can also be optimized with offline programming.
The solution for this is the Hesse software for offline programming. The software represents the exact graphical interface of the bonder and runs under Windows 10.
Functions for the complete process are available:
Import of process data
Offline programming
Simulation and optimization
Export and installation of programms onto the bonder

Offline programming simulates the control of the machine hardware, the ultrasound system and the live views with lighting and focusing of the loaded camera image. Product images can be scanned from existing bonders (prefered) or generated from CAD data.
The integrated online help supports the user during the complete process.
After finishing the offline programming, the data can be conveniently transferred to the bonder in different ways:
USB stick
Hesse Bonder Network (HBN)
PBS server
Network Drive
In addition to its use in everyday production, offline programming also offers advantages for training purposes.
Learn more about the functions of Offline Programming. Get in contact with us.
TwinCAT® Automation
Integration of control software for automation in Hesse Bonder Interface with TwinCAT® Automation
Hesse automation systems are based on Beckhoff PLCs which are controlled via TwinCAT
TwinCAT enables a machine to communicate with the automation hardware
The automation user interfaces (setup, production screen) are integrated in the Hesse Bonder Software
Hesse Bonder Software option for TwinCAT is able to integrate any  TwinCAT 3 based automation system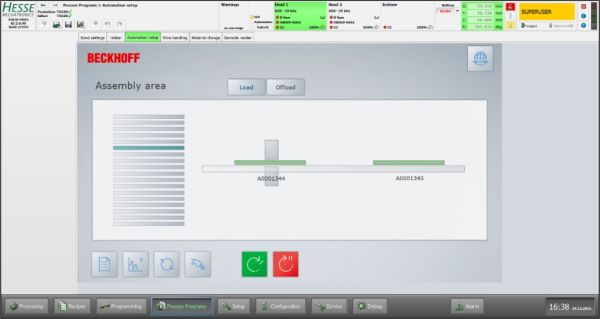 SECS/GEM standardized server connection
SECS/GEM: integrated standardized server connection for automation and communication, handling via Workbench
Communication of a bonder with a SECS/GEM host
Process program management
Remote control
MES Interface
Interface to Manufacturing Execution Systems, integrated or customized implementation
Integration of Hesse bonder into customer´s proprietary MES infrastructure
Functions: communication of process data or events, validation of incoming material identifiers or association of process results with a material identifier
CSV Logger
CSV Logger: storage of all machine and process data, e.g. bond positions etc.
The CSV logger stores all machine events and related data to a CSV file. For instance for each bond that is made, its positions as well as related process data (variables) are recorded. More than 490 variables can be logged!.
The created files are freely configurable to customer's needs and log ongoing by triggering events. Example: The CSV logger function can be configured to create a file logging errors but also a file containing the bonded assemblies including its PiQC values.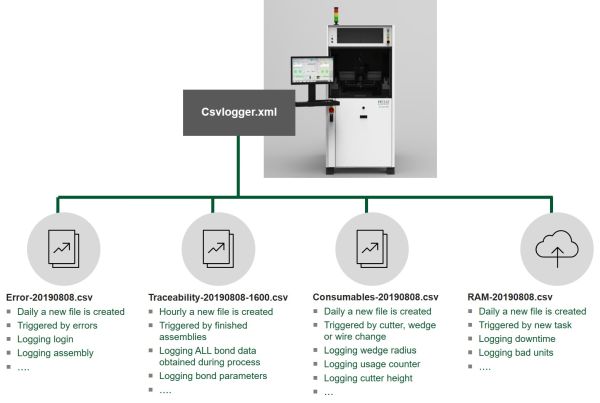 Login via USB Stick
Easy Login via USB Stick
A specially prepared USB stick acts as an access key. You can log into the bonder without entering the password and have direct access.