Lasersonic Wire Bonder LSB959
Lasersonic Wire Bonder LSB959
Fully Automatic Lasersonic Bonder
Lasersonic Wire Bonders LSB959 are the new generation of heavy wire wedge-wedge bonders with additional thermal energy directly addressed to the bondtool.
The laser-heated bondtool enables a precisely controlled temperature at the tool tip by laser energy.
Beneficial effects of heated bondtool for the process:
Increased bondability
especially for materials which are not well processible by "cold" ultrasonic bonding like battery caps, copper alloys, coated caps/clips, etc.
No additional surface heating for other applications.
Reduced ultrasonic power and normal force
reduced power and/or force lower mechanical stress and avoid damage of sensitive substrates (e.g. dies)
Increased total system capacity
processing of larger wire/ribbon/clips without increasing space or cross section
Improved yield
Increased shear forces
Reduced process time
Precisely controlled process
The Lasersonic Wire Bonders are developed for the fully automated processing of a wide range of large-sized substrates, chips and other materials. The systems can be used as a fully automatic machine or operated manually. Outstanding features are high speed and the large bonding area. In addition to a standard configuration, Hesse offers automation concepts individually adapted for every application.
Your benefits in the spotlight
Advanced features and process advantages
Vmproved wire handling: short distance between bondhead and spool
Optimized pattern recognition: image capture with new digital image processing and flash
Bondtool installation using calibrated height fixture
Precisely programmable bondforce actuator
Loop generator for individual loops
Maintenance-free solid state joints
Pre-setting of bondheads via EEPROM
Hesse Assist Tools (option):

E-Box: patented solution for optimized tool change and programmable alignment marks for cutter, wire guide and bond wedge
Automated bondforce calibration; a load cell prevents operator error and ensures robust processes
Innovative bondtool detection
Wire spool detection
Flexibility
Working area
Flexible use of the large working area, e.g. vacuum clamping of several 5″ x 7″ standard DCBs
Maximization of throughput by automation (two/more parallel lanes
Quality
Continuous real time monitoring of wire deformation, transducer current, and frequency within programmable control limits
Process integrated Quality Control (PiQC): detection of further parameters, e.g. friction behavior, by additional sensor system for 100 % quality monitoring in real time (patented); as option
Integrated, non-destructive pulltest
Remote pull function on PiQC threshold value for optimized cycle time; > 99% savings in quality check compared with single NDPT (non destructive pull test)
Lasersonic bondhead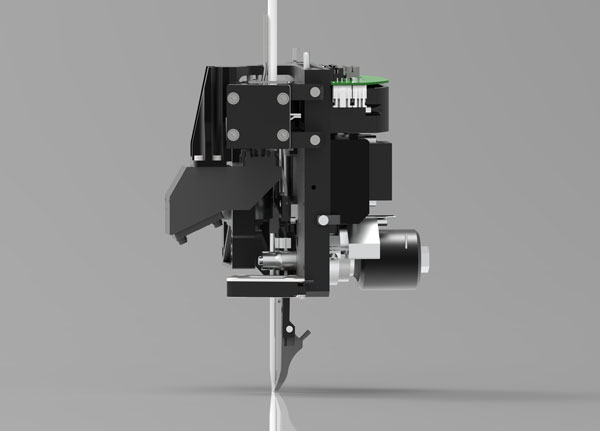 Lasersonic heavy wire bondhead for copper wire
Laser-heated bondtool tip with controlled laser absorption
Fast heat transport into wire and substrate
Temperature: Bondtool tip at 400-500 °C for interface at 150-200 °C
No thermal effects on transducer
Accurate laser setting due to pilot laser
Inert gas noozle (e.g. nitrogen) prevents Cu oxidation during bonding process (option)
Precisely controlled bondtool temperature
An intelligent bondhead connecting system with integrated memory stores all calibration data and enables bondhead replacement in a few minutes
Wire clamp for loop shape control is standard on all bondheads; optionally equipped with non destructive pulltest
Technical data
Working area

LSB959: X: 370 mm; Y: 560 mm; Z: 42 mm
P-rotation: 440°
Lasersonic bondhead
LSK (Backcut): Laser-heated bondtool tip with controlled laser
absorption
Temperature: Bondtool tip at 400-500 °C for interface at 150-200 °C
Frequency: 60 kHz*; alternative frequencies on request
Cutting methods
Ultrasonic
Digital ultrasonic generator with PLL (Phase Locked Loop),
internal frequency resolution <1 Hz
Programmable ultrasonic power output
Laser
IR fiber laser with power up to 130W
Programmable temperature output
Footprint and weight
LSB959: 805 mm x 1634 mm x 1912 mm, ca. 1300 kg
Various loop form functions
Reproducible loop geometry by wire guide appropriate for the material involved and moving wire buffer
Constant wire length and loop height
Mechanically demanding loop geometrics by parameterization and individual wire clamp application
Individual loop shapes by configurable loop trajectory generator
*exact range of frequencies on request